FORMCONCRETE FEATURED IN THE NEW BOOK OF ENVIRONMENTAL CONSTRUCTION
Formconcrete featured in the book of environmental construction. A high-quality environment is the result of good design and professional implementation. New book "Betonin käyttö ympäristörakentamisessa" has been compiled as a multidisciplinary collaboration of experts and presents opportunities for increasingly ambitious implementations in environmental construction. Read the digital version of the book here (in Finnish):
https://lnkd.in/eTBsU5tA
FORMCONRETE IN RAKENNUSLEHTI: 3D SOLUTIONS ARE THE UPCOMING TREND IN FACADES
FORMCONCRETE RETAINING WALL CROWS THE YARD
"Formconcrete products create a new kind of visuality for structures that are in many sites dominant for the environment.The shape lives under the influence of light, so the object becomes a living entirety that changes according to daylight."
MUOTOBETONI-ELEMENTEISTÄ TEHTY TUKIMUURI KRUUNAA TALOYHTIÖN PIHAN
"Muotobetonituotteet luovat uudenlaista visuaalisuutta rakenteisiin, jotka monessa kohteessa ovat ympäristöä hallitsevia. Muoto elää valon vaikutuksesta, joten kohteesta saadaan päivänvalon mukaan vaihtuva, elävä kokonaisuus."
MUOTOBETONI MUKANA BY 40 JULKAISUSSA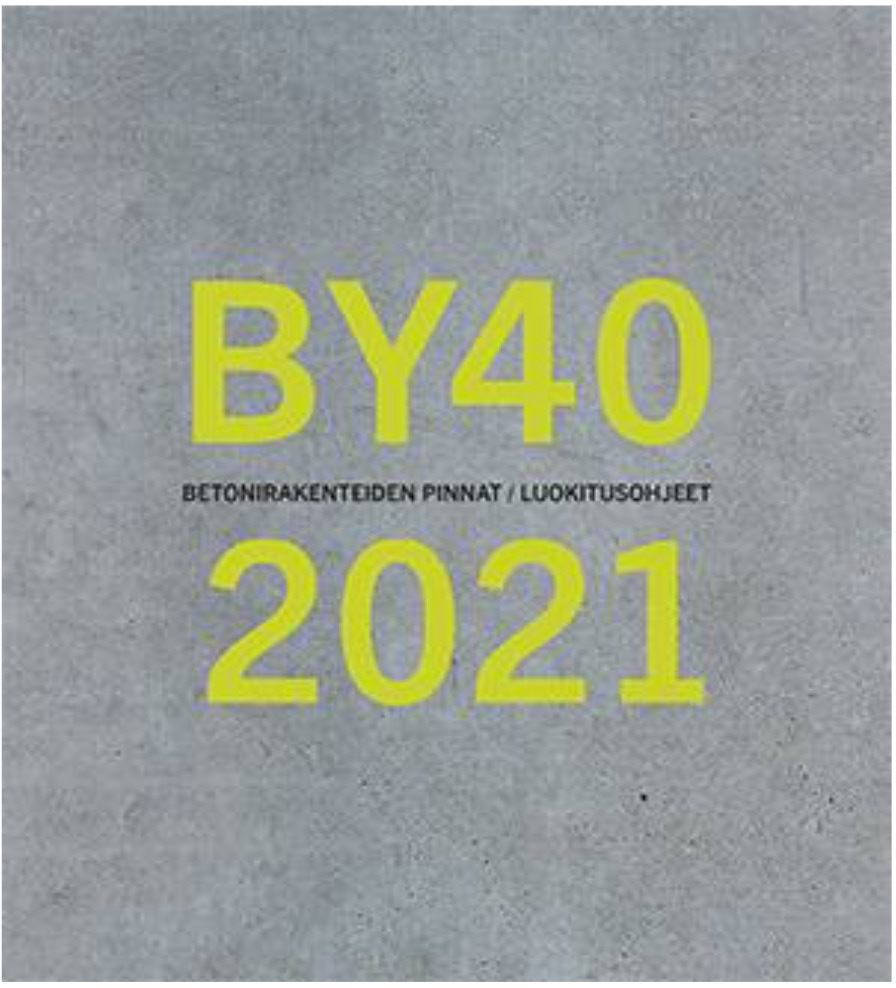 FORMCONCRETE AT CPI WORLDWIDE MAGAZINE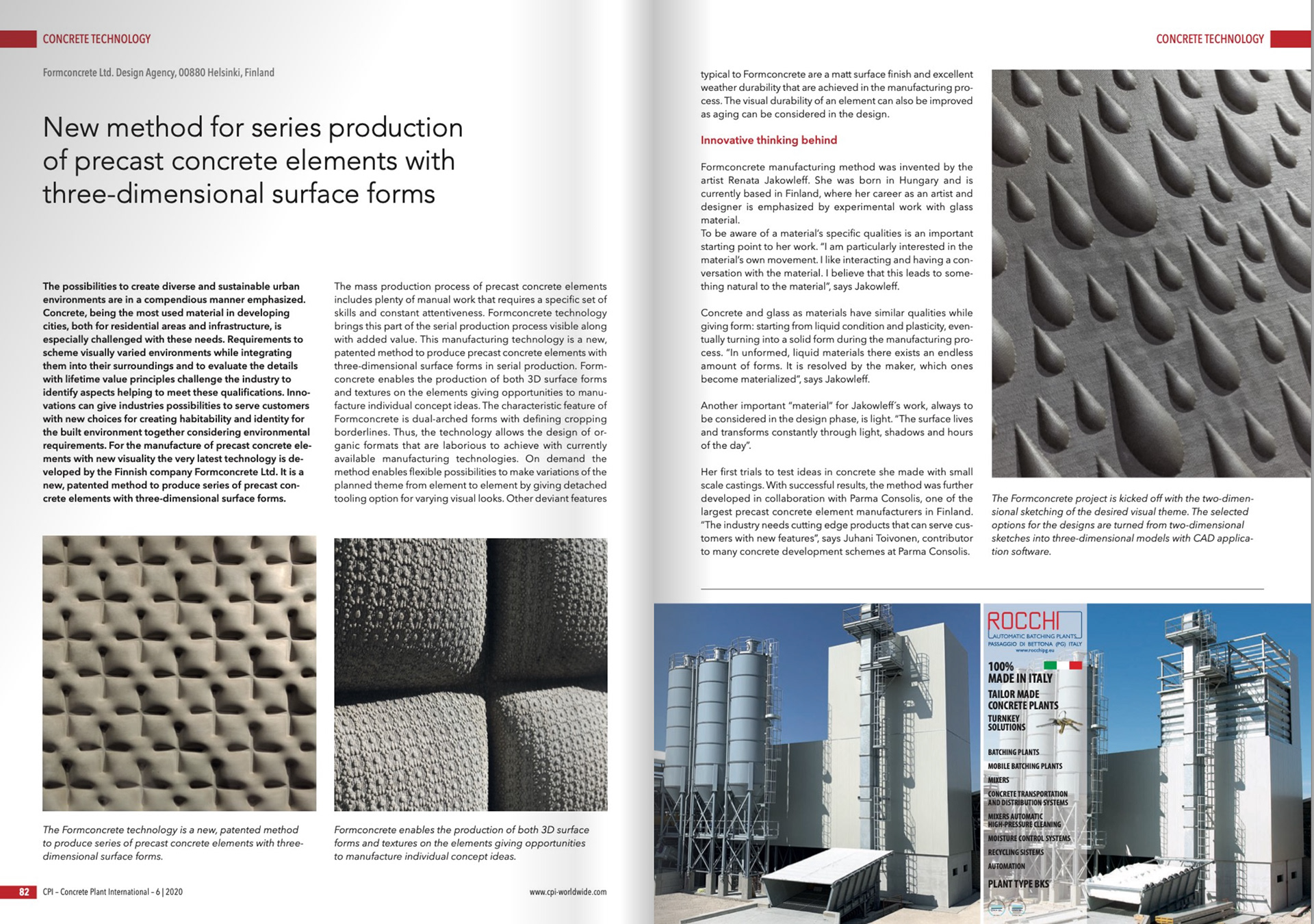 FORMCONCRETE AND RUDUS INTO COLLABORATION
Formconcrete and Rudus have started collaboration by offering Formconcrete models in Rudus' infrastructure products portfolio. "We´ll start with producing Formconcrete models in our core product line, however later we can produce the surface structure of our retaining walls according customer wishes"says Jukka Latvala, the sales manager of Rudus infrastructure products.
Rudus Oy ja Muotobetoni Oy ovat aloittaneet yhteistyön, jonka myötä betonielementtien pintaan voidaan tuottaa kolmiulotteista kuviota. Ensimmäiseksi valmistusmenetelmää käytetään Ruduksella betonisten tukimuurien valmistuksessa.
Muotobetoni antaa lukuisia mahdollisuuksia tuottaa rakennettuun ympäristöön omaa identiteettiä. Lisäksi valmistusmenetelmä tuottaa erinomaisen pinnanlaadun, mikä parantaa sen kestävyyttä. Näin ollen Muotobetoni on myös ympäristöystävällinen valinta, koska se on tuotteena pitkäikäinen pohjoisen vaativissa olosuhteissa ja vähentää ympäristölle aiheutuvia kustannuksia.
FORMCONCRETE IN CONCRETE ISSUES
Read about Formconcrete in Elematic's customer magazine

FORMCONCRETE VISUAL LOOK IN GRAFIA COMPETITION

Formconcrete Ltd visual look by Pietke Visser from Kuudes is being shortlisted for the annual Vuoden huiput competition by Grafia, Association of Visual Communication Designers in Finland. Our visual look will compete in Identity category.
FORMCONCRETE AT SEMINAR OF LANDSCAPE INDUSTRIES

Formconcrete is being introduced by Raija Siikamäki at Viherpäivät seminar. The annual event is organized by the The Finnish Association of Landscape Industries in Jyväskylä, 12.-13.2.2020, and is specialized in landscape and urban architecture.
FORMCONCRETE AT CONCRETE! EXHIBITION

FORMCONCRETE AT PARMA'S TOUR

First club day of Concrete Lovers Social club held in Tampere. Next chance to hear Raija Siikamäki presenting Formconcrete design solutions and formworking method at Helsinki on the 27th of September. Join the club, 
https://ssl.eventilla.com/concrete_lovers
, and come to her about the latest solutions in concrete design.
CONCRETE INNOVATIONS ON TOUR

Concrete Lovers Social Club is presenting new methods in concrete around Finland during fall 2019. Formconcrete along other inventions will be presenting latest aesthetical solutions are presented in Tampere, Helsinki and Oulu. The clubs will be held in Finnish. See the program and sign up: 
https://ssl.eventilla.com/concrete_lovers 
FORMCONCRETE AT NEW MATERIAL FUTURE SEMINAR
Coming up: Formconcrete will be presented at New Material Future seminar.
FORMCONCRETE AT FINNBUILD FAIR
Formconcrete featured at FinnBuild Fair by Parma Consolis, 10.-12.10.2018, and we are present every day from 13 o'clock at Parma's stand. www.finnbuild.messukeskus.com Renata Jakowleff will be presenting Formconcrete technique, at the fair on Friday, 12th of October at 14.30. Betonipuisto. Welcome!
FORMCONCRETE DESIGNER WINS ORNAMO AWARD
Formconcrete designer Renata Jakowleff wins prestigious 2018 Ornamo Award. According to journalist Sami Sykkö, who selected this year's winner, society needs visionaries like Jakowleff who have the ability to bring change and fresh thinking to traditional industries. https://www.ornamo.fi/en/press-release/glass-artist-renata-jakowleff-wins-prestigious-ornamo-award/
FORMCONCRETE FEATURED AT ORNAMO MAGAZINE
FORMCONCRETE AT PARMA MAGAZINE
Formconcrete featured in Parma magazine http://www.parma.fi/asiakaslehti/parma-lehti-1-2017